Are you looking for motivation and peer support to help you meet your goals? Want to stay on track with sleep, exercise, organization, or other goals that are important to you?
Sign up to be paired with an Accountability Buddy!
Complete a request form
Attend one one-hour workshop*
Get matched with an Accountability Buddy!
Click here to request an Accountability Buddy!
* For Fall 2021, Accountability Buddies will choose one of the following times to attend a workshop where you will get together to 1) set goals, 2) learn about effective group work, and 3) determine meeting logistics. (We'll share workshop location info after you complete the request form.)
F 9/3, 4:30 PM
W 9/8, 7 PM
T 9/14, 1 PM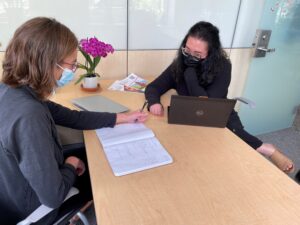 M 9/20, 2 PM
S 9/26, 2 PM
F 10/1, noon
Accountability Buddies provide general support and motivation for each other. If you're looking for study partners for a specific class, sign up here.