Learning Strategies Center tutors are a dedicated group of students committed to other students' success.  Their role as academic peer mentors is integral to the work of the LSC, and we'd like to to recognize the tremendous impact of their work!
What did students say about LSC tutors, Fall 2018? (from evaluations)
The student tutors were always extremely knowledgeable and helpful. If I asked a question… they would help me understand the question rather than help me solve it without explanation.
It was just really nice to sit down and be able to ask questions when I needed help and work on my own when I understood what I was doing.
Answering my questions in a way I can understand.
Having a place to go to get my questions answered changed my academic trajectory
(tutors) were patient with me as I tried to understand the concepts.
I liked the way the tutors helped us work through problems without completely giving answers away.
I went to tutoring very frequently…. Seriously love those people, thank you for helping me
The LSC tutors are very effective. They're not as intimidating as the grad TAs, so it's easy to ask them questions.
I always got amazing help
We'd also like to share that Brenna was specifically nominated by a student for Certificate of Commendation: "I feel like she played a very integral part for helping me develop the level of understanding that I have of the course material.  She is very hard working, patient, and makes sure that she helps you understand the material in every way.  She has made this class easy for me."
Tutors also nominated each other for an "Outstanding Tutor" award, which was only open for tutors to nominate other tutors. W e asked if tutors saw peers– other tutors– go "above and beyond."  These are tutors who not only do a great job of helping guide students through the process of understanding, but who also:
Take initiative
Demonstrate innovation
Are dedicated to students' success
Serve as a role model and peer mentor, beyond the course content
Congratulations to Jeremy!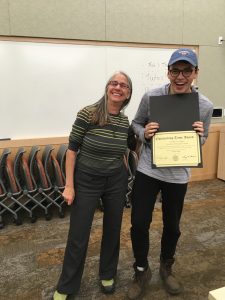 Tutors shared the following comments about other tutors:
Not afraid to engage as a leader by guiding the discussion to find the students weakness.
Brings exciting ideas to the tutoring center and creates a fun environment for everyone!
Continuously thinks of ways to improve and create a friendly space for our tutees.
Learns every student's name!
Thank you, LSC tutors, for your hard work, dedication, and all the support you provide our students!
Share this post!