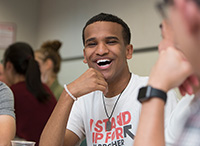 First-Year Family Weekend gives families the opportunity to experience Cornell from the perspective of their student. This is a time to walk in your student's shoes and explore all that the campus and local community have to offer. All family members are welcome to attend, ranging from grandparents to younger siblings of any age.
Learn more here!
Don't forget to join us at the LSC for a "Meet and Mingle". This is a great opportunity to learn more about our programming, resources, and events we offer in addition to meeting our students and staff.
Friday October 27th, 1-4pm. Light refreshments will be served.
Share this post!