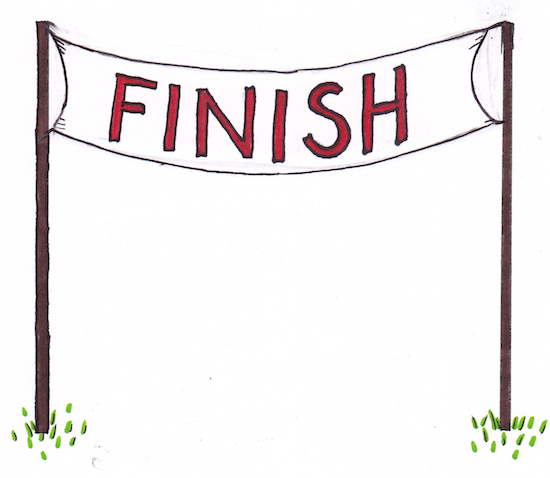 ORGANIZE TIME
Plan your routine for sleeping, studying, exercise, and other commitments:
Use this Crunch Time Calendar to get organized.
Try the pomodoro technique if you're having trouble getting started.
Efficacy drops after an hour or two spent on any one subject, so mix up your studying and take breaks.
If you are having trouble focusing, take a break and try a meditation technique.
Get moving. Even if you don't have time to do a long workout, you can do 1 minute of jumping jacks for every hour sitting at your computer or the 7-minute workout.
Let the people you're living with know about your school commitments during study period and finals.
What concrete plans do you have to minimize distractions?
Decide the best mix of individual and group study for you, and reach out to set up time to study with other people.
If you are having a hard time sticking to your plan find yourself an accountability buddy, someone who checks in with you regularly to help you meet your goals.
Some of your exam prep will be the same whether you're learning remotely or in-person:

ORGANIZE INFORMATION
Make study guides for each class.
To make an effective study guide, start by answering these questions:
What existing materials will you use?
What new resources will you need to use or create?
What do you already know well? What do you need to learn better? (For cumulative exams: answer these questions for each prelim.)

PREPARE AND STUDY ACTIVELY
Prepare for open-book tests as though the test is closed-book. Expect to refer to your material, not learn the material during an open book test, which means you need to get organized and study beforehand. (Tip: If you type up your study guide it'll be easier to search for key words during an open book exam.)
Will your online test be in a new format you haven't done before? If there is an opportunity to practice the format ahead of time, do it!
Active studying is much more effective than passive studying (this is always true, and is extra true now):

Passive studying includes: looking over old notes, problem sets, or homework, re-watching lecture videos
Active studying includes: re-watching lecture videos while you take notes to fill in gaps from your study guide, re-working problems (without looking at the solutions), doing textbook examples without checking the answer, getting someone to quiz you on important concepts, teaching your pet/plant/picture how to do what you will need to do for the test, making a concept map to activate higher-level learning.
For useful information, go to the Cornell COVID-19 updates page cornell.edu/coronavirus/
Share this post!